An article on the following Clinical Trial Publication: Pharmacokinetics of Supplemental Omega-3 Fatty Acids Esterified in Monoglycerides, Ethyl Esters, or Triglycerides in Adults in a Randomized Crossover Trial
1. Introduction
Omega-3 (n–3) fatty acid supplements have been widely studied for their potential health benefits, from improved cardiovascular health to anti-inflammatory properties. While they undoubtedly play a critical role in human health, the esterification form in which they are delivered has often been a topic of debate, particularly concerning absorption rates and associated gastrointestinal side effects. 
In a previously published study (Chevalier, L., Plourde, M. Comparison of pharmacokinetics of omega-3 fatty acid supplements in monoacylglycerol or ethyl ester in humans: a randomized controlled trial. Eur J Clin Nutr 75, 680–688 (2021). https://doi.org/10.1038/s41430-020-00767-4), we explored the pharmacokinetics of omega-3 fatty acids (n-3 FA) when provided as either monoacylglycerides (MAG) or ethyl esters (EE) in humans. The results of this randomized controlled trial demonstrated that n-3 FA esterified in MAG led to higher plasma concentrations of both docosahexaenoic acid (DHA) and eicosapentaenoic acid (EPA) compared to when they were provided in EE form. Specifically, after receiving the MAG form, plasma concentrations of EPA and DHA were observed to be 3 to 2.5 times higher respectively than with the EE form. These findings were profound as they highlighted the superior absorption and efficacy of the MAG form. With these insights, we have progressed to a second pharmacokinetic study to further delve into the comparative efficacies of these forms and elucidate underlying mechanisms.

2. Study Objectives and Methodology
The primary objective was to understand the 24-hour area under the curve (AUC) of the plasma concentrations of EPA, DHA, and their combined concentration (EPA+DHA) in the three esterification forms: MAGs, EEs, and TGs. Additionally, potential side effects over a 24-hour period post-supplementation were evaluated as a secondary outcome.
The study design was a randomized, triple-blind, crossover, controlled clinical trial with 22 participants (11 men and 11 women) aged between 18 and 50 years. Each participant ingested, in random order, a single oral dose of approximately 1.2 g of EPA and DHA esterified in the three forms. Blood samples were collected over a 24-hour period following ingestion.
3. Key Findings
Efficacy in EPA Absorption: Plasma EPA concentrations over 24 hours were nearly 3 times higher with MAGs as compared to EEs and 2 times higher than TGs.
Efficacy in EPA+DHA Absorption: The 24-hour AUC of plasma EPA+DHA concentrations showcased a 2 to 3-fold increase with MAGs compared to EEs and rTGs.
Absorption Timing: EPA reached its maximum concentration (Tmax) 5.5 hours post-intake when provided as MAGs, earlier than the 8.6 and 7.4 hours observed with EEs and TGs respectively.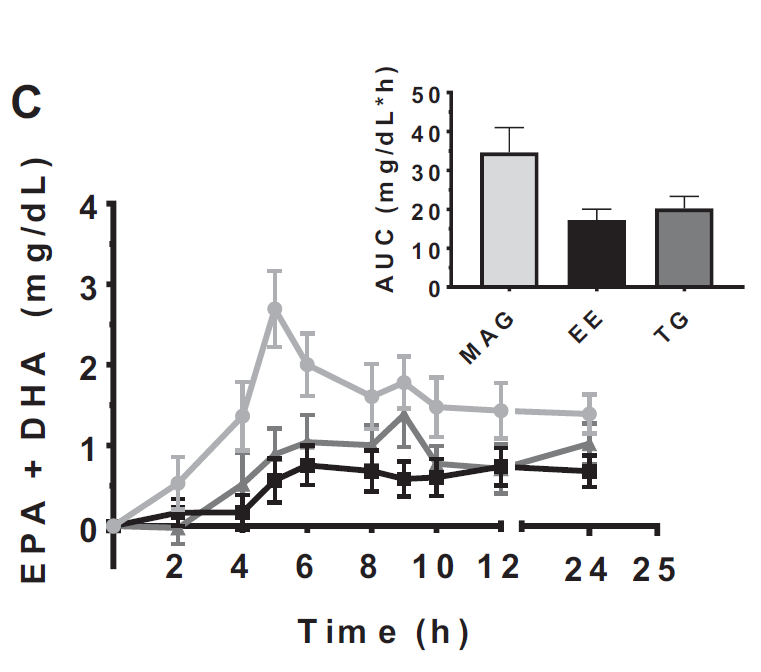 4. Implications and Conclusions
The enhanced absorption rate of Omega-3 fatty acids in MAG form signifies potential benefits for end-users:
Reduced Dosages: With a lower dose of MAG n–3 FAs, similar plasma n–3 FA concentrations can be achieved as with higher doses of n–3 FAs esterified in EEs or TGs.
Economic Efficiency: Higher absorption can result in the need for fewer supplements, leading to cost savings for consumers.
Maximized Efficacy with Standard Dosage: With the same dosage as regular omega-3 supplements, MAG-O3 guarantees enhanced absorption, resulting in more profound health impacts.

Improved Patient Adherence: Superior absorption benefits, especially for patients with difficulties in digesting and absorbing fats. As a result, these patients are more likely to consistently follow supplementation regimens, given the noticeable effectiveness of the product.
In conclusion, as the global community continues to recognize the benefits of Omega-3 fatty acids, ensuring optimal absorption is crucial. The MAG-O3 form, with its superior pharmacokinetic profile, represents a promising direction for future Omega-3 supplementation strategies.
Acknowledgments
We extend our gratitude to Laurie Chevalier, Annick Vachon, and Mélanie Plourde for conducting this groundbreaking study. The complete findings can be accessed below.
Reference to the origincal study
Chevalier, L., Vachon, A., & Plourde, M. (Year of Publication). Pharmacokinetics of Supplemental Omega-3 Fatty Acids Esterified in Monoglycerides, Ethyl Esters, or Triglycerides in Adults in a Randomized Crossover Trial. [Journal Name], [Volume(Issue)], [Page Numbers]. https://doi.org/10.1093/jn/nxaa458.