Discover our Patent Pending Senolytic Healthy Aging Program
Experience Healthier Aging with our Patent Pending 2-Step Senolytic Program. Our program targets and reduces senescent cell buildup, promoting the natural repair and maintenance of healthy cells for graceful aging. Discover the Power of Patented Monoglyceride Omega-3 with MAG-O3®.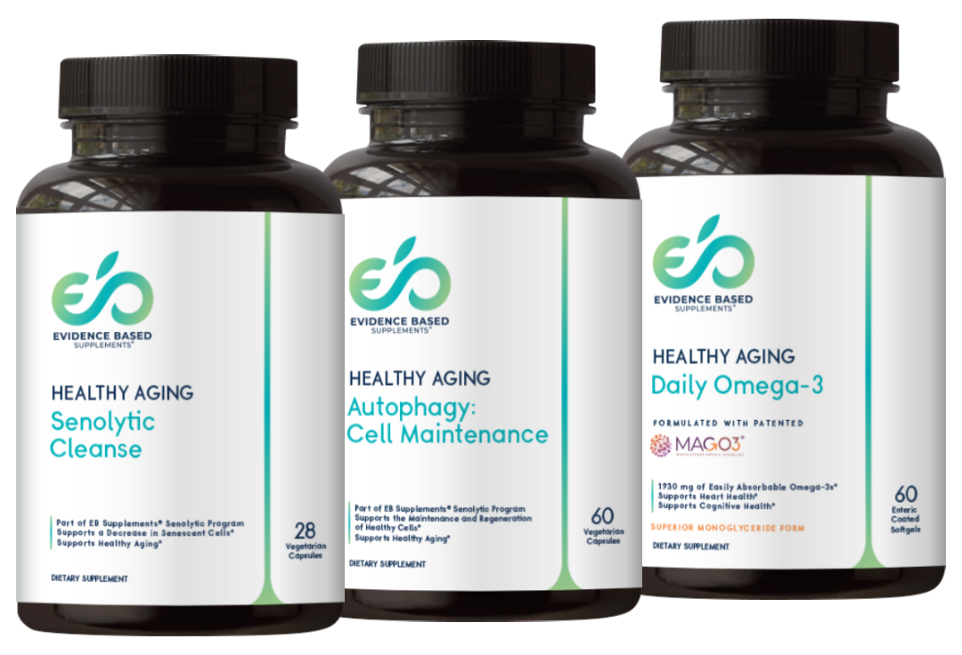 Revolutionize Your Anti-Aging Routine with EB Supplements' Patent Pending Senolytic Program

Phase I: Eliminate Zombie Cells*
(2 weeks)
The first phase of our EB Supplements™ Healthy Aging Senolytic Program is focused on getting rid of lingering senescent cells. This two-week process uses our specially formulated blend of senolytic compounds, carefully selected based on our own in-house research. The goal is to target and eliminate excess senescent cells, giving your body the chance to restore its natural balance.


Phase II: Repair Damaged Cells*
(4 months)
EB Supplements™ Healthy Aging MAG-O3® Daily Omega-3

In this next stage of our program, we support your body's natural ability to repair and maintain healthy cells through our specially formulated blend of autophagy-boosting ingredients. Additionally, our proprietary MAG-O3™ fish oil, which is rich in monoglyceride omega 3s, provides further support by helping to prevent the formation of new senescent cells and improve nutrient absorption. Join us in taking a proactive approach to healthy aging.


A New Era in Aging: Dr. Fortin's Senolytic Research

Dr. Fortin's groundbreaking work on senolytics sheds light on the role of 'zombie cells' in aging. His studies highlight the efficacy of natural senolytic molecules, such as Fisetin, Quercetin, and EGCG, in combating these cells. Additionally, his research introduces the vital role of MAG-O3™, an omega-3 supplement, in promoting cellular rejuvenation. Through his insights, Dr. Fortin offers a scientific roadmap to proactive aging. Explore his latest findings below.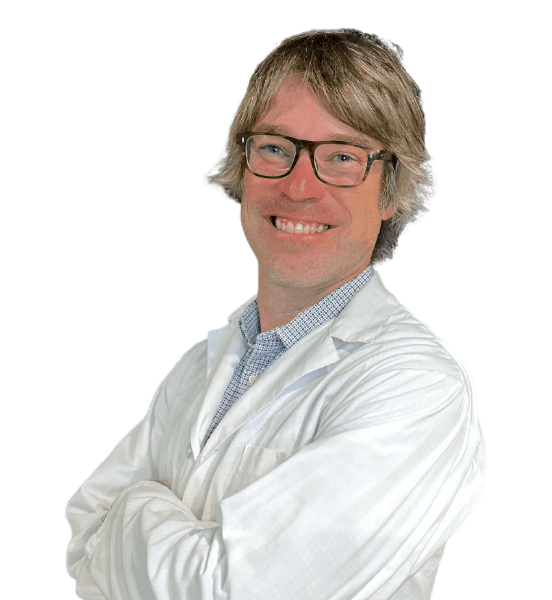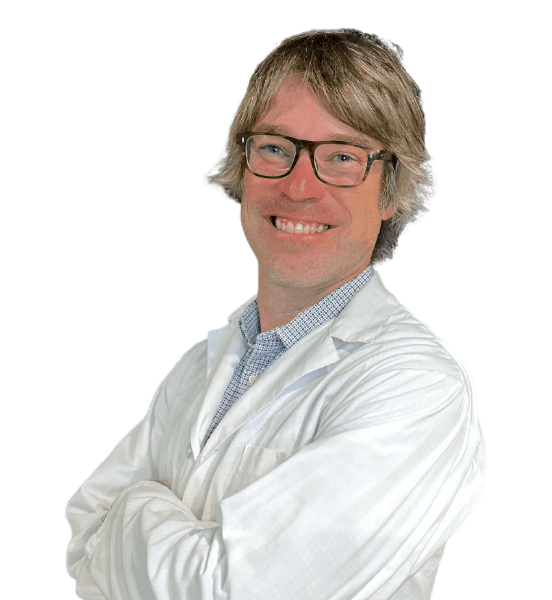 Senolytic Cleanse: First Case Study
A single-subject, pilot study was conducted at our clinical facilities to evaluate the efficacy of EB Supplements™ proprietary Senolytic Cleanse formula in reducing senescent cell burden. The study showed promising results, demonstrating a potential reduction of senescent cells in less than 14 days.*

Consult The Clinical Evidence Timeline
The Omega-3 Effect:
Second Case Study
EB Supplements™ Healthy Aging MAG-O3™ Daily Omega-3

Dr. Fortin's groundbreaking second case study shines a spotlight on the power of omega-3, specifically our MAG-O3™ formulation, in cellular rejuvenation. This research specifically delves into the interplay between our proprietary Senolytic Cleanse blend and the MAG-O3™ supplement. Initial findings indicate that the right sequence and combination can potentially amplify the reduction of senescent cells, setting the stage for a holistic approach to healthier aging.*

Consult The Clinical Evidence Timeline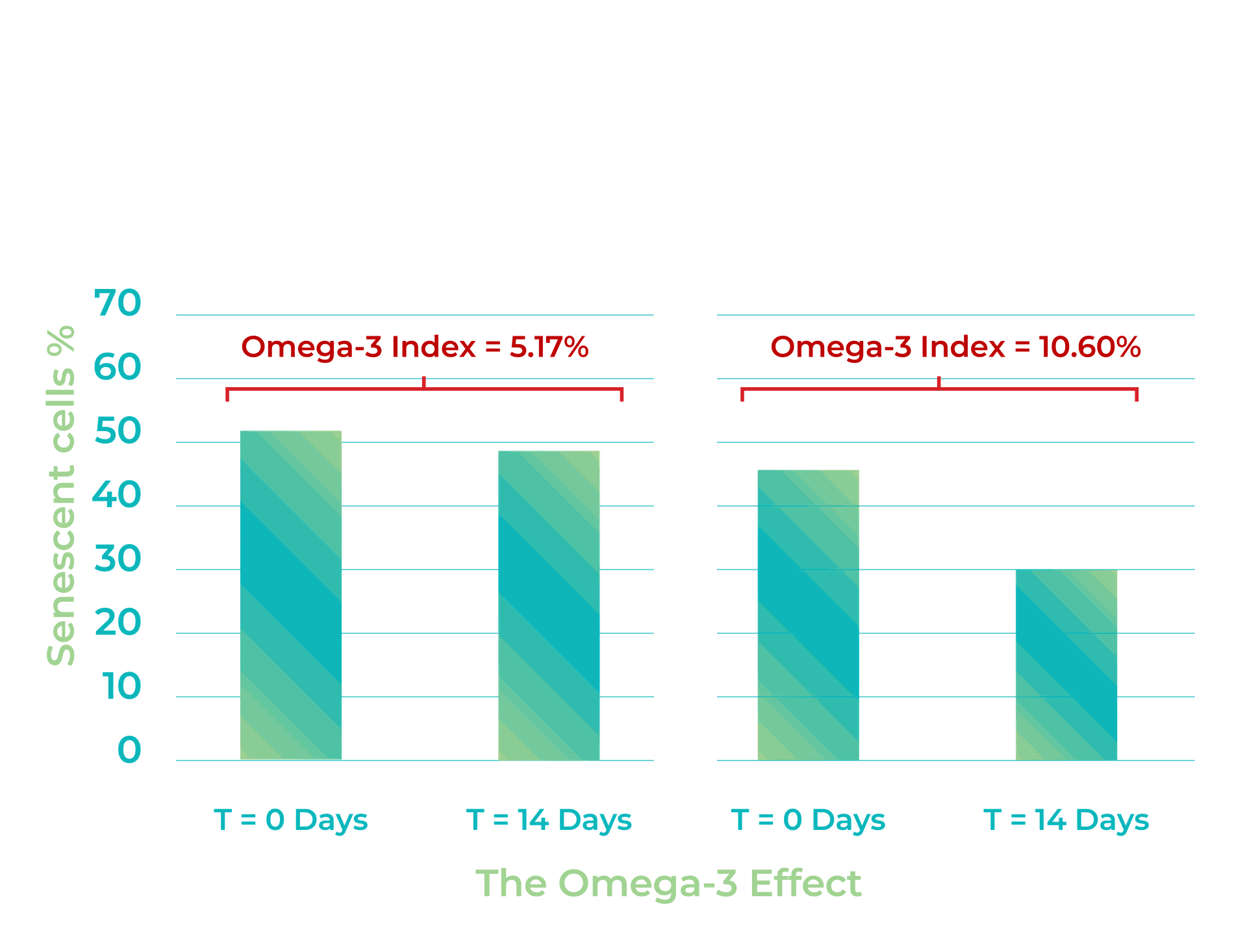 Proof of Concept:
Ex-Vivo Results
EB Supplements™ Healthy Aging Senolytic Cleanse

EB Supplements™ Healthy Aging Senolytic Cleanse formula marked the genesis of our journey into cellular health. In this pivotal proof-of-concept trial, human white blood cells were subjected to H2O2, a widely recognized agent inducing premature senescence. Post exposure, they were introduced to our proprietary Cleanse blend. The compelling outcomes showed a tangible decrease in the prevalence of senescent cells, hinting at a potential deceleration in biological aging.*

Consult The Clinical Evidence Timeline

See Our Senolytic Program in Action: A Visual Illustration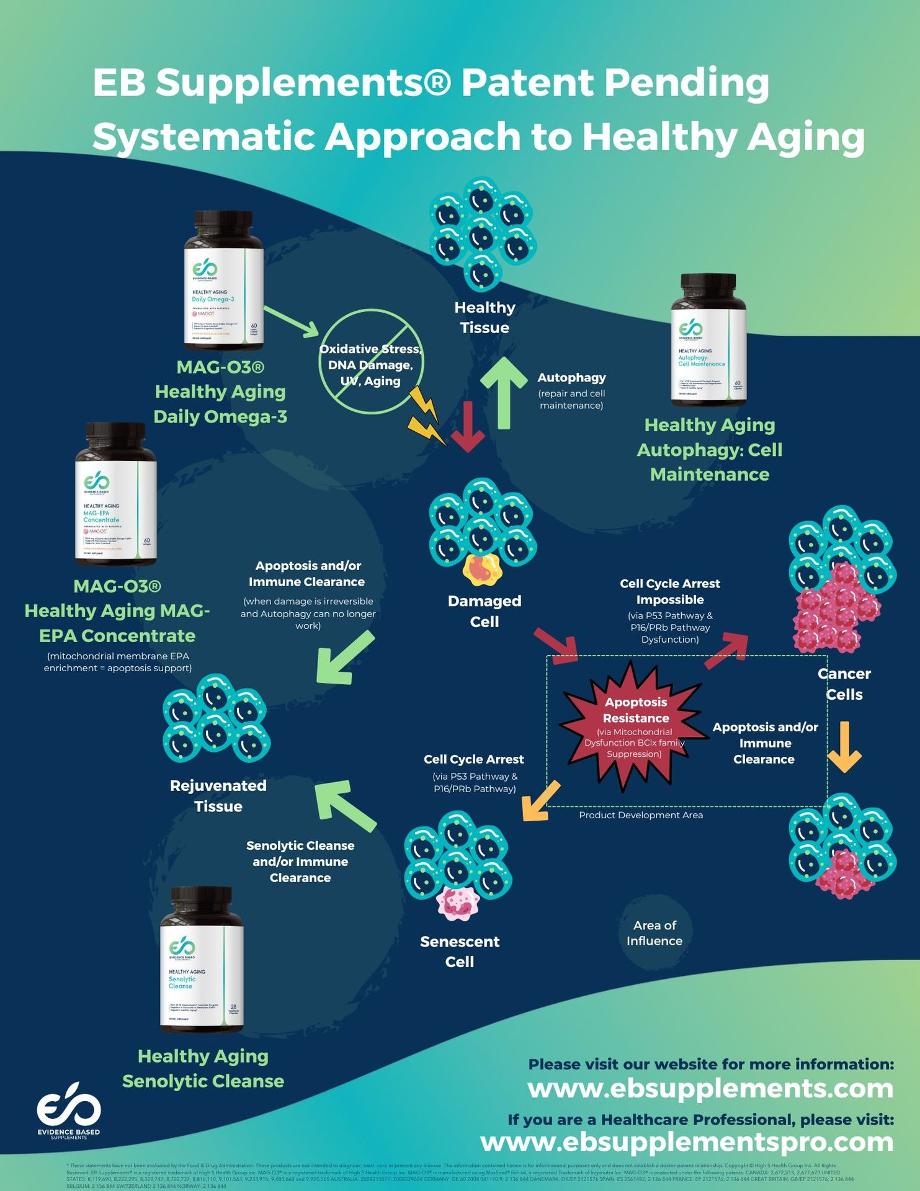 Your Dynamic Snippet will be displayed here... This message is displayed because you did not provided both a filter and a template to use.

* These statements and including any other statements made on this page have not been evaluated by the Food & Drug Administration. These products are not intended to diagnose, treat, cure or prevent any disease. The information contained herein is for informational purposes only and does not establish a doctor-patient relationship. Copyright © High 5 Health Group Inc. All Rights Reserved.